Larry Taylor: New Generations of Chicago Blues;
The Rolling Stones Got it Here
Have you heard?  The Rolling Stones this month released an all-blues album, Blue and Lonesome,  covering tunes by masters of Chicago blues such as  Howlin' Wolf, Muddy Waters, Willie Dixon, Little Walter, Magic Sam, Jimmy Reed.  It's topping the Billboard charts in Great Britain and Australia and is hitting #4 in the USA. 
 On the Stones record is "Ride 'em on Down," a song by VeeJay guitar master Eddie Taylor Sr, whose oldest son is Larry Taylor.  Like many blues performers today, Larry helps keep the music going in small neighborhood clubs and occasional tourist spots.  Most of these blues men and women are now in their 60s.  If they are not suitably honored and rewarded, younger generations are unlikely to take up this American roots music.  And the world would lose the healing music it desperately needs right now.   
"We won't be around forever," Larry often says. Several of his good music buddies, including Killer Ray Allison and Osee Anderson, passed this year. "We're doing our thing now so people will not forget us and our music."
Larry and promoter Barrelhouse Bonni are producing a new album for 2017 featuring some of his original tunes, plus his Taylor brothers and sisters including Eddie Taylor Jr. on guitar, Tim on drums and the great voice of Demetria, performing the music of their parents Vera and Eddie Taylor Sr. When it comes to the classic sound of 1950s-60s Chicago blues, you will find no family that upholds this tradition like the Taylors. Playing on the album are the Soul Blues Healers, a skillful and energetic band of West and South Side musicians. 
Donations to help release and promote the album, and other Chicago blues projects involving Larry Taylor including blues education for kids and the movie The Rhythm and the Blues, are tax deductible through Bonni's Chicago blues project fiscal sponsor, the 501c3 nonprofit arts organization Fractured Atlas. CLICK HERE for details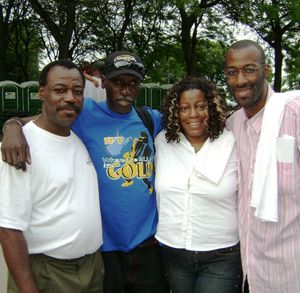 Stop and smell the flowers, taste the snowflakes, hug your friends and family, and groove to some real BLUES!  It will make 2017 go a lot better in these challenging times.