Howlin Wolf said it best: "When you got no food on the table, can't pay the rent--that's the blues." As many face these daily realities, there's one silver lining: we've still got blues music to chase away the blues.  LARRY TAYLOR, legendary band leader, producer, singer and drummer from the West Side of Chicago, has been there. And he knows how to bring it --the blues, and the rhythm. Real music all people can enjoy.
WHO LARRY IS: Larry Hill Taylor is the oldest son of the master guitarist Eddie "Playboy" Taylor—VeeJay recording artist, Jimmy Reed's music partner, the guy who laid down the boogie and "lump" rhythms that power Chicago's world-famous blues music.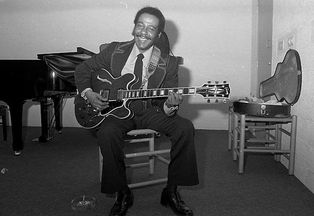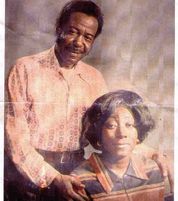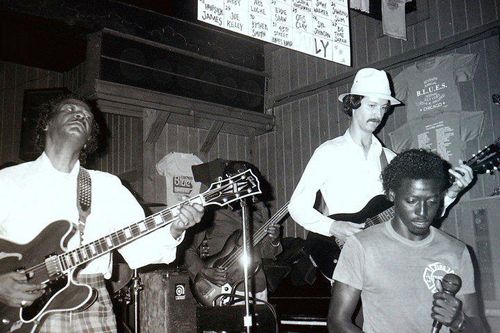 Today Larry's a legend in his own right: the Ambassador of Wst Side Blues He faithfully carries not only his father's 1950s music traditions, but also a stack of lively R&B/soul tunes which sprang from blues in his own West Side neighborhood--from Howlin' Wolf to Tyrone Davis to James Brown. He received long-overdue recognition in 2020 when the City of Chicago's Department of Culture and Special Events named him one of 13 Esteemed Artists. To Larry, blues still expresses the years of beauty and hardships of the African American community, including his own life. He cannot be separated from the community where he grew up and continues to do neighborhood concerts.
LARRY's HISTORY: Born in Chicago in 1955, Larry grew up in a Mississippi-born family of musicians including his mother, singer/songwriter/piano player Vera Taylor.  After seeing drummers play at the historic outdoor market on Maxwell Street, Larry at age five picked up sticks and pieced together his own drum set from cardboard boxes.  As a youth, he watched through a hole in the roof as Howlin' Wolf played on stage with his parents at the Golden Blue Flame.
In the late 1970s and 80s, Larry Taylor performed and recorded with his father and other icons of Chicago blues and soul including John Lee Hooker, Buddy Guy, Honeyboy Edwards, Junior Wells, A.C. Reed, Eddie Shaw, Hubert Sumlin, Albert Collins, Albert King, Tyrone Davis, Johnnie Taylor, Otis Clay, Artie Blues Boy White,. and many more. He was chosen for the 1977 New Legends of Chicago Blues tour of Germany by Jim O'Neal of Living Blues Magazine and Chess producer Willie Dixon, along with other young bluesmen who rank with him as today's masters, such as Billy Branch, Johnny B. Moore and Lurrie Bell. 
For the next 25 years Larry performed with everyone, everywhere, from his own West Side and the South Side of Chicago, to the Chicago Blues Festival and national and international stages. He played drums on all 15 tracks of the 1983 Wolf Records LP I Found Out featuring his parents Eddie and Vera. Larry also is recorded drumming and helped arrange Delmark records with his two uncles, Eddie Burns  (Snake Eyes) and Jimmy Burns (Back to the Delta). He played drums and helped guitarist Johnny B. Moore arrange Moore's Wolf album Born in Clarksdale.  He drummed on his brother Eddie Jr.'s Wolf recordings.
Forming his own band in 2004, he recruited musicians from his native West Side and the South Side. He leads the band with rhythms that come out of his whole body and soul: "Sometimes I feel I'm going through my whole life when I do these songs." His huge vocal repertoire ranges from traditional Delta country tunes like "Fannie Mae," his Wolf-like composition "Tell Me Baby" (complete with howl), to the urban soul blues of Tyrone Davis and James Brown. His CD, They Were in This House, on his own label AV Records in 2004, has original tunes plus blues and soul favorites and was re-released in 2011 by Wolf Records.
Larry's autobiography Stepson of the Blues, (released in a limited edition, 2010, currently out of print)  showed his faith, love of music and sense of history overcoming the real-life inner city blues. 
 FAMILY: Larry Taylor wants the whole world to know that he and his brothers and sisters— drummer Tim,the late guitarist Eddie Taylor Jr, and singers Brenda, Edna and Demetria— are the children of Eddie Taylor Sr., father of blues rock'n'roll and modern blues. You can't listen to blues and not hear the riffs and rhythms of Eddie Taylor; he ranks in influence with the famously promoted Chess artists like  Muddy Waters.  And you can't talk about today's generation of Chicago blues without dealing with Larry Taylor, the most powerful blues band leader in 21st Century Chicago.    In 2023, on Nola-Blue Records, Larry released a long-awaited Taylor family CD, Generations of Blues. 
PERFORMANCE HIGHLIGHTS:
Chicago Blues Fest 2005, 2007, 2008, 2017, 2023 and West Side Soul City Blues Fest 2021; Blues on the Chippewa Festival, Durand, Wisconsin 2021; Beverly Arts Center Music Mondays 2016 and 2017;Illinois Alliance West Side Blues Fest, Columbus Park 2016, 2018, 2021; Howlin Wolf Tribute, Willie Dixon Blues Garden June 2012; West Virginia State U. concert, Institute, WV 2010; Blues & Spirit Symposium panel and concert, Dominican U. 2008;  Master Musicians Festival, Somerset KY with Honeyboy Edwards 2007; Willie Dixon Wang Dang Doodle Fest, Vicksburg MS 2006. (Details: see Calendar: Past Shows.)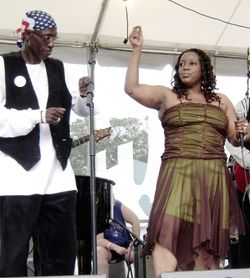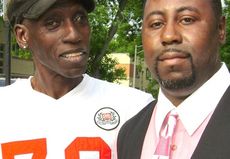 MISSION: "I've been around so many of our blues elders. When I go on stage I feel their spirits in me."  . He says: "I want to give my community a voice that can be heard round the world." Real music for all people.
LARRY's ACT: Larry Taylor leads a band of drums, bass, guitar, keyboard and/or sax, bursting with dozens of favorite tunes. His bandmates adhere faithfully to the tradition of blues, and to the West Side repertoire of favorite R&B and soul tunes to fit the occasion, conjuring rhythms that put fans onto the dance floor.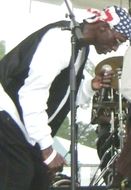 See Larry on Facebook 
  Videos on YouTube include (see VIDEO PAGE) 
   CAN-TV Interview, July 2019
  "Killing Floor" from 2017 Chicago blues fest
   CONTACT:  Larry Taylor, 872-(872) 702-1693  /email on CONTACT page           
                     Bonni McKeown, publicity, 773-209-4712 or bonni@barrelhousebonni.com