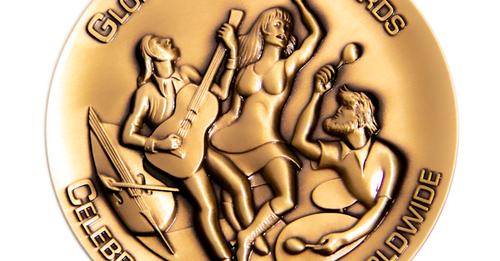 Growing up in a house filled with postwar blues masters, plus grounding in Chicago Public School music programs during the 1960s and 70s, has paid off for Larry Taylor, producer of the Taylor family CD "Generations of Blues" on Nola-Blue Records. Global Music Awards has given the album a 2023 Silver Award for Outstanding Achievement.
Global awards are not based on popularity, but rather on "creativity and quality of musical craft."  The awards span all genres, from classical to indigenous, jazz to modern techno, with instruments from flutes to zithers. Taylor is one of very few blues musicians to qualify. 
Says Larry, who recruited his brothers and sisters plus fellow West and South Side musicians and directed  "Generations of Blues" in the studio: "To be a master you got to learn from the masters. I want my blues to sound the way they showed me."  Early music mentors included his Mississippi-born parents,  singer/songwriter Vera Taylor and master guitarist Eddie Taylor; plus Howlin' Wolf's drummers Cassell Burrow, Winehead Willie Williams and S.P. Leary; and Chicago music teacher John Watson.   
From 1979 through 2003, Taylor played drums in the bands of local and world-known bluesmen and soul singers including John Lee Hooker, A.C. Reed, John Lee Hooker, Junior Wells, Otis Clay, Little Milton and more.  He began singing in front of his own band in 2004, producing his first critically-acclaimed album "They Were in This House" reissued by Wolf Records in 2011.  While the sounds of electric guitar and bass stand out in Chicago blues, he asserts, "The drums and the voice are what drives the music." 
On "Generations of Blues," five Taylor brothers and sisters sing and play traditional Chicago blues including songs by their parents: Larry on vocals and drums, Tim on drums, the late Eddie Jr. on guitar, and the vocals of Demetria and Brenda. The third generation debuts "No Shine," a rap composition by Larry's son, Liljet 2x, backed by Larry's band live in the studio.  
For the crisp, clear sounds on the recording, he thanks Joyride Studio, a West Side business, and its engineer Brian Leach. Nola-Blue CEO Sallie Bengston and Betsie Brown of the publicity firm Blind Raccoon brought the album to the attention of Global Music Awards 
Larry Taylor, known as the "Ambassador of West Side Blues," received an "Esteemed Artist Award" for 2020-21 from Chicago's Department of Culture and Special Events.  He and his brothers and sisters performed in the 2023 Chicago Blues Festival.  This summer, as in 2022, he 's leading a series of free West Side neighborhood concerts sponsored by DCASE and local nonprofit groups. 
On Saturday July 29, Larry Taylor and his band the Soul Blues Healers are featured in the Third Unitarian Church Garden Raspberry Festival in Larry's current Austin neighborhood.  On Aug. 13, the band is to play at the North Lawndale popup spot on Douglass Boulevard, in a history celebration in the neighborhood where Larry and siblings grew up.   The nonprofit Chicago Austin Youth Travel Adventures will sponsor three Wonderful Wednesdays with Larry's band at Austin Town Hall Park Aug. 16, 23 and 30, plus the GhanAgain African-based festival Sept. 9, where Larry's fellow Esteemed Artist Katherine Davis will also sing with the Soul Blues Healers.  Larry aims to restore blues music in Black communities where it was popular half a century ago and help new generations discover it.
"African Americans created blues to deal with the hardships we go through," he says. "Blues is a tradition that changes hard times to good times. It's the root of all American popular music. Blues tells a human story with feelings that bring everyone together."