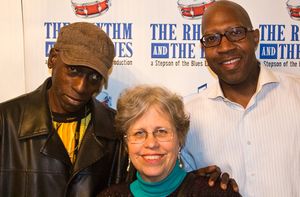 "I come up in the hard struggles here in Chicago, on the West Side," Larry Taylor says. "I went through many things. Experiencing gangs, prison, (and) the Civil Rights movement."  These events, plus the dramas in his own musical family, will be portrayed in a feature movie, The Rhythm and the Blues, starring the actor Leon (who played David Ruffin in the movie The Temptations) as Larry's stepfather Eddie Taylor.
It takes courage to display your whole life on screen, but Taylor wants audiences to be inspired by his story. 
Above: Larry with producers Bonni McKeown and Darryl Pitts.
MORE INFO: www.therhythmandtheblues.com